With over 12 years of experience providing consultations to Fortune 500 companies, non-profits, and government agencies, Dr. Higgins is knowledgeable and comfortable with engaging corporations and organizations. Through networking events and consultation meetings, she has engaged over 250 employers and developed a niche for speaking about diversity recruiting, developing inclusive work environments, and examining the impact of bias on your business.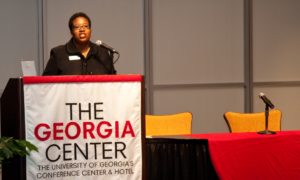 Invite Dr. Higgins to inspire you and your colleagues. She is available to speak at your next meeting, training, or virtual event.
Making the Most of Diversity Recruiting on College Campuses
Today's college campuses are filled with diverse talent but how can you effectively connect with this generation of students and market opportunities with your company? Dr. Higgins knows the most effective strategies for finding ideal talent on college campuses. She understands what students seek from companies and how companies can market their opportunities to attract the best talent.
In this presentation, you will learn how to:
* Establish and maximize relationships with students
* Comprehend what students think about your company and your commitment to diversity and inclusion
* Effectively communicate in order to attract the best students
* Identify and resolve common challenges diverse talent experiences in the workplace
Essential Steps for Leading an Inclusive Work Environment
As organizations focus on increasing diversity among their employees, it is also important for organizations to provide welcoming environments for all employees. Inclusive workplaces are significant to recruiting and retaining employees. Employees want to work in environments where they can be themselves and where they are appreciated as such. Research has shown that employees are happier, more satisfied and engaged when they feel included at work.
Marian's unique background as a supervisor and a diversity and inclusion expert have provided her with insight into the benefits of offering inclusive workspaces. During this session, she will elaborate on the essential steps for creating and leading an inclusive workspace. As a participant, you will learn by:
* Understanding the impact of your identities, experiences, and beliefs at work
* Establishing recruitment and retention processes that are equitable and inclusive
* Assessing the current state of your office space, culture, traditions, and communication practices
* Examining how systemic practices impact inclusivity and equity at work
The Effects of Bias on Your Business
Everyone has biases. Yes, even you. But how often do we admit them and consider their impact on our employees and customers? Implicit bias is judgments and behaviors that we display unconsciously. These unconscious thoughts guide your day-to-day interactions and lead to behaviors that negatively affect employers and customers. Ultimately resulting in a negative impact on your bottom line.
In this session, Dr. Higgins delves into:
* The types of biases that are at play in your workplace
* The impact of these biases on human resources functions such as recruiting, interviewing and hiring
* The impact on retaining employees and engaging them
* Strategies for addressing personal and organizational biases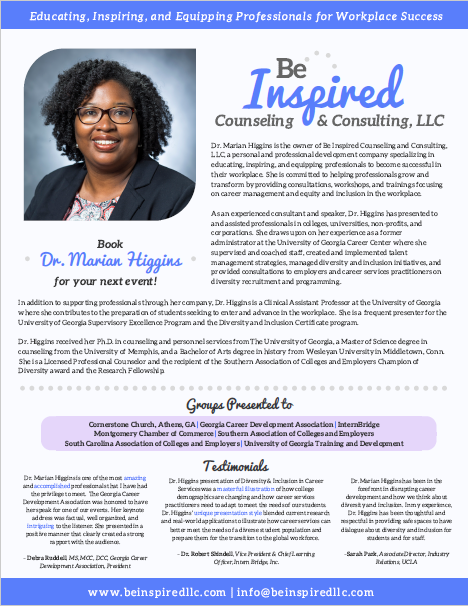 Download Dr. Higgins' Speaker Package